---
PA's Every Student Succeeds Act Plan gets federal approval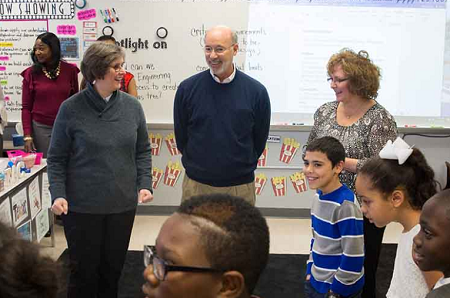 The Every Student Succeeds Act (ESSA) has given Pennsylvania a once-in-a-decade opportunity to reshape public education in the commonwealth.
Gov. Tom Wolf's administration has made good use of that opportunity, working closely with PSEA members and other stakeholders to develop a comprehensive, forward-thinking state ESSA plan. On Jan. 17, the U.S. Department of Education approved the plan, setting the stage for the state to fully implement it during the 2018-19 school year.
The plan uses multiple measures of school success, shifting the focus to students and using standardized tests in a more balanced way. It also ensures the public sees a broad spectrum of information on how a school is performing.
PSEA will continue to update you as the state ESSA plan is fully implemented.

---
Supreme Court to decide case impacting PSEA and other unions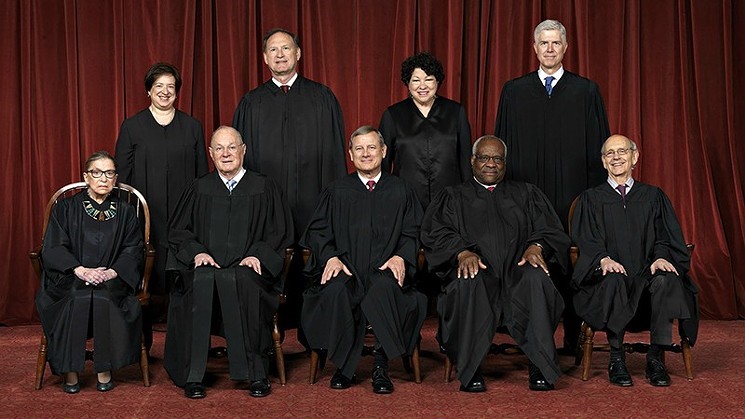 You may have heard that the Supreme Court is expected to rule this year in a case designed to further rig the rules against working people.
The case, Janus v. AFSCME, is an attempt to prevent unions like PSEA from charging fees for the services unions provide. The case holds serious implications for unions and is the latest push by well-heeled, anti-public employee forces to attack organized labor.
The National Education Association and the American Association of University Professors submitted an amicus brief in the case, urging the court to reject the plaintiff's argument, which conflicts with the court's long-established deference to state decisions about their public workforces. PSEA joined that brief. Gov. Wolf, along with several other state and local officials, filed a separate brief in favor of preserving the fees.
The justices will hear oral arguments on Feb. 26, and a decision is expected by June. PSEA has been preparing for the decision by expanding its organization and communications efforts. We will continue to keep you updated as the case proceeds.
In the meantime, consider joining a National Day of Action Feb. 24, and stand up for the rights of working people like us. There will be an event in Philadelphia at 10 a.m. that day at the Thomas Paine Plaza, 1401 John F Kennedy Blvd.

---
Quick hits
---
Video: Gov. Wolf and other elected leaders stand with PSEA members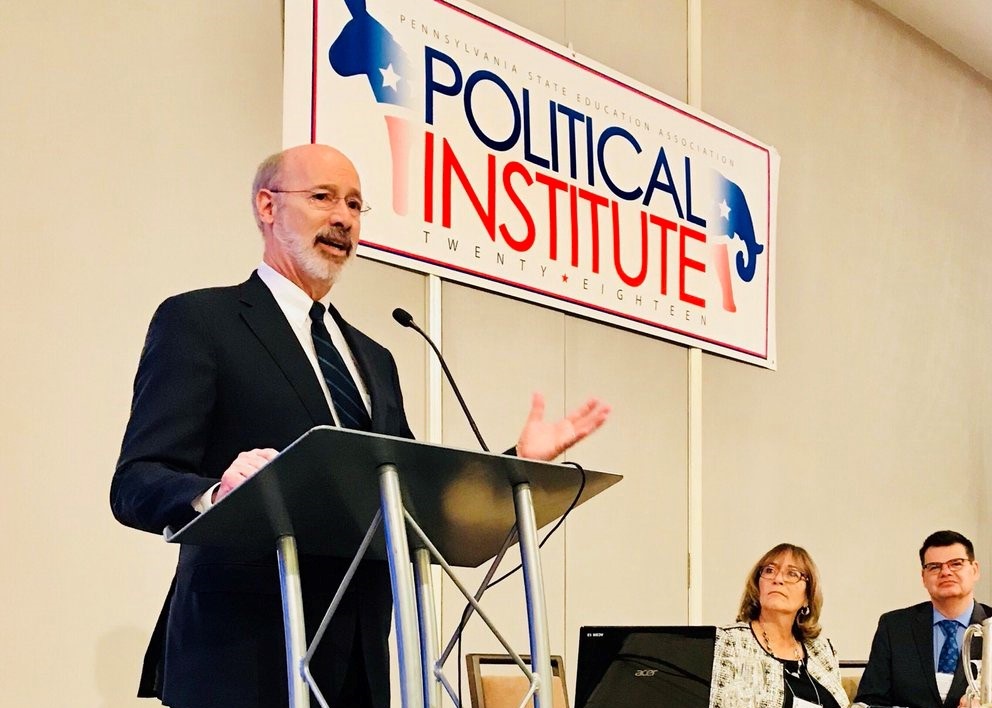 Gov. Tom Wolf and Sen. Bob Casey of Pennsylvania spoke at PSEA's Political Institute earlier this month, thanking you for what you do every day and promising to help lift your voices in Harrisburg and Washington. Listen to their messages to PSEA members as they embark on re-election campaigns.
Attendees also heard from U.S. Rep. Brian Fitzpatrick, who emphasized the need for more bipartisanship in Washington, and U.S. Rep. Glenn Thompson, who reminded attendees that education is the pathway to opportunity.
One thing is clear about this election: Everything we fight for — our students, our schools, our colleagues — is on the line in 2018. PSEA will be in touch throughout the year to tell you about pro-public education candidates from both parties who are key to building a stronger Pennsylvania.

---
Legislative Update: A state budget, vouchers, overtime pay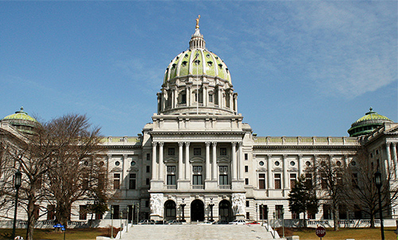 The state Capitol has been fairly quiet this month, but things will pick up in February when Gov. Tom Wolf delivers his state budget address. Here's what you need to know:
Budget address: Gov. Wolf will outline his 2018-19 budget proposal in a joint address to the General Assembly on Feb. 6. Follow our Facebook and Twitter pages for updates.
Overtime pay: Pennsylvania's overtime rules haven't changed in more than 40 years -- until this month when Gov. Wolf announced a proposal to modernize the outdated rules and strengthen the middle class. The rule changes will increase the pay of nearly half-a-million people, ensuring they are compensated fairly for their hard work. Learn more here.
Tuition voucher schemes: The state Senate's latest tuition voucher plan would siphon $500 million in state funding from the 71 school districts where students would be eligible. The bill could get a vote in the Senate Education Committee in the coming weeks. Learn more and take action at www.psea.org/vouchers.
---
It's the perfect time to get Act 48 and Chapter 14 credits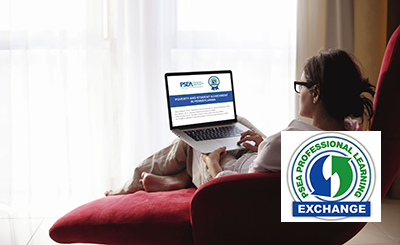 Quick … before you have to break out the lawn mower and gardening shears, use what little winter free time you now have to take advantage of PSEA's Online Learning Portal. This service for PSEA members allows you to earn Act 48 and Chapter 14 professional development credits from the warmth and comfort of your home.
Courses include information on educator evaluations, classroom management, special education information, school bus driver training, and more. New courses are being added regularly.
Start learning today. You will need your PSEA Members Only login and password to browse course listings, find instructions, and access current course offerings.

---
New password rules for PSEA.org
Beginning Feb. 1, new password rules will be in effect when you log in to PSEA.org.
The first time you log in on or after Feb. 1, you will be prompted to enter your current password and create a new one meeting the new password requirements.
This is being done to enhance your security while using online resources from PSEA.
---
Member Benefit Spotlight: New PSEA Signature Visa Card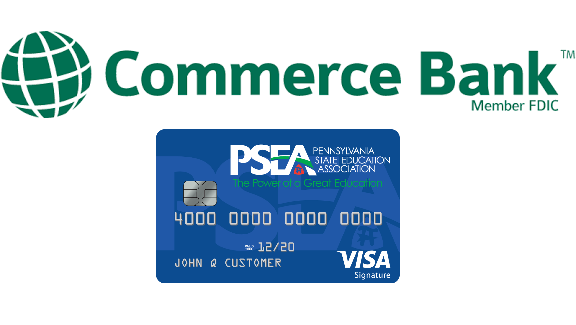 PSEA is partnering with Commerce Bank to bring members the PSEA Visa Signature Credit Card offer. With this card, members can earn cash back rewards with every purchase, including 3 percent cash back on wireless providers and ride sharing services, 2 percent on gas and restaurants, and 1 percent on all other purchases. There is no point cap or opt-in required.
Check it out and start earning cash back on your everyday purchases.

---
---
400 N. 3rd Street, Harrisburg, PA 17101
This content is intended for PSEA members and their immediate families.