---
Our association is strong because members like you belong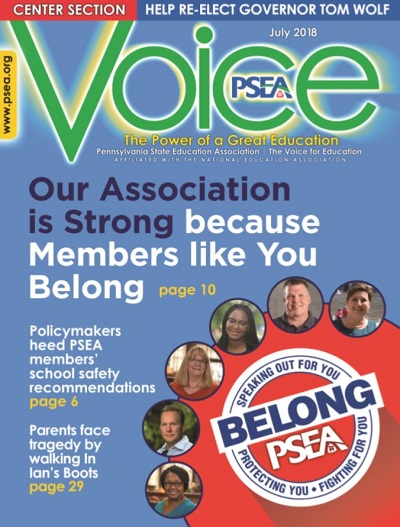 Being a PSEA member means being a voice for students and for great public schools as well as coming together to negotiate the salaries, benefits, and protections on the job that educators and support professionals deserve.
That was the message from several PSEA members featured in the July issue of Voice, which takes a close look at what it means to be a PSEA member. One thing is clear, no matter whom you ask: Membership is strength.
"I've been involved in bargaining contracts, and I know that it's much easier to get a decent living wage in a contract when you have a good, strong membership behind you," said Council Rock ESP member Chris Cooke.
Read the full story in the July issue of Voice, online at www.psea.org/voice.
---
Video: Rich Askey responds to Betsy DeVos? Erie visit
As secretary of education, Betsy DeVos has rolled back student protections and pushed for public school funds to go to private school vouchers.
When Secretary DeVos toured an Erie public school on July 16, PSEA Vice President Rich Askey decided to send a message. He joined fellow PSEA members for a rally to challenge Secretary DeVos' push to divert money away from public schools to private interests.
"We have to invest in our schools, not invest in private companies and not invest in our own personal interests," Askey said in a short video at the rally.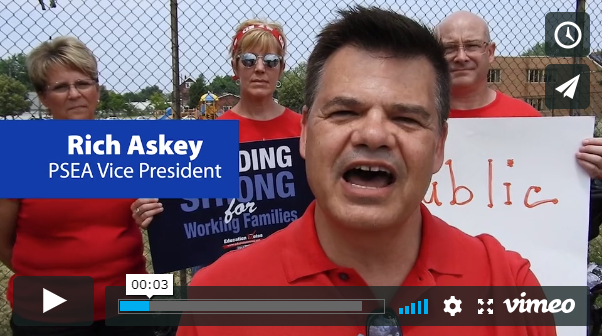 ---
Video: Gov. Wolf is proud to partner with educators
Gov. Tom Wolf came to Gettysburg to help PSEA kick off the 2018 Summer Leadership Conference last week. Hundreds of PSEA members had the opportunity to talk with the governor and get their photos taken.
Gov. Wolf also took a minute to record a short video message to say he is proud to be a partner with PSEA members and to have the support of so many educators and support professionals.
---
Secrets to classroom success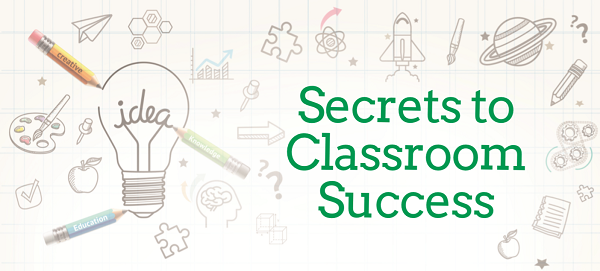 Several PSEA members shared their secrets to classroom success in the July issue of Voice. Here are just a few. You can read them all at PSEA.org.
Tracy Richards
Seneca Valley EA
"I have an A+ stamp I use to celebrate making errors (and learning from them) in my classes. Every student can earn one by taking risks in learning new things in my class. The one student who most cemented the value in this practice was one who said, 'This is the first time I've ever gotten an A+.'"
Janette Heil
Haverford EA
"I perform 'contraction surgery' with my first- and second-graders. I wear a white lab coat, and everyone gets gloves and masks from the nurse. I assemble our tools on a cafeteria tray – a 'scalpel' (scissors), 'bandages' (tape), and 'stitches' (red Sharpie marker). We perform surgery to remove the extra letters, then 'stitch' the word back together with an apostrophe and bandage the contraction with tape."
Do you have a secret to classroom success? Drop us an email and let us know what it is. Be sure to include your name and local association.
---
PA is investing to combat teacher shortage
Since 1996, the number of Pennsylvania undergraduate students majoring in education has dropped by 55 percent, while the number of new teaching certificates issued by the commonwealth has declined from more than 15,000 in 2009-10 to fewer than 4,500 in 2016-17.
The story in Pennsylvania mirrors a national trend in which teachers are in short supply, especially in the fields of special education, science, and math, while the demand for qualified educators is growing.
To respond to the crisis in Pennsylvania, Gov. Tom Wolf has awarded $2 million in grants to eight Pennsylvania universities to develop and implement residency programs for educators.
"These grants will benefit our students by providing advanced training to better prepare teachers and school leaders to serve in our most high-need areas," Gov. Wolf said in a statement.
---
Member spotlight: John Odell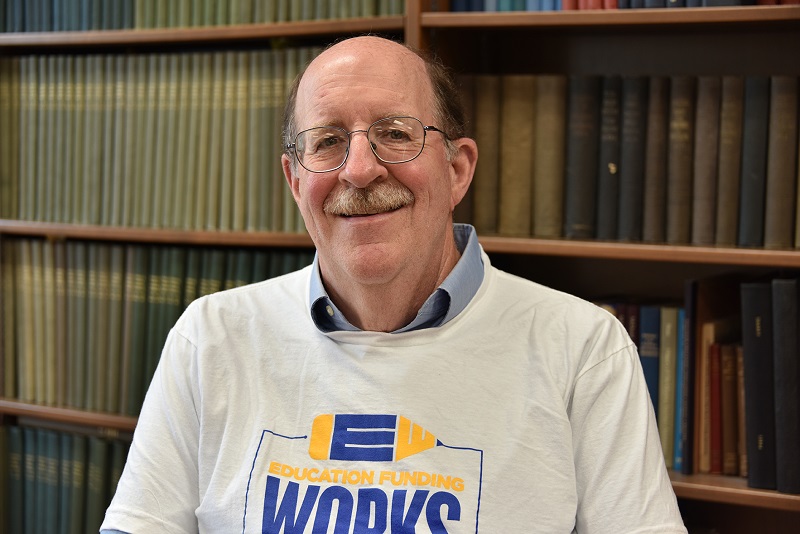 Phoenixville EA member John Odell is in his second successful career.
The eighth-grade science teacher studied meteorology at the University of Oklahoma but felt a calling to serve during the time of the Vietnam War. He joined ROTC with plans to stay in the military for two years. That turned into a 24-year career with the Army.
Now in his second career, Odell believes his military service prepared him well for the teaching profession.
"I was in the military; I was serving my country. Now I'm serving my community," Odell said. "It's just a continuation of something I feel called to do – to serve."
Read more about Odell's service in PSEA's latest Member Spotlight.
---
Member Benefits spotlight: Voluntary vision program
PSEA is pleased to announce a new voluntary vision program available through the PSEA Health and Welfare Fund.
PSEA members may opt in at a low monthly rate and use the plan as primary coverage or as a supplement to other coverage. Program benefits include:
Low monthly payments
Frame and contact lenses allowances
Choice of 12-month or 24-month coverage
Availability to all PSEA Members and eligible dependents (up to age 26)
Enrollment open the first of each month
---
---
400 N. 3rd Street, Harrisburg, PA 17101
This content is intended for PSEA members and their immediate families.

Manage your email subscriptions at www.psea.org/MyPSEA.