Gov. Wolf: A+ Public Education Champion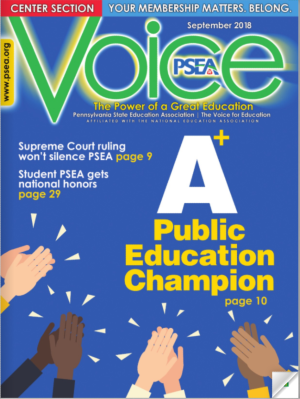 Tom Wolf has been a terrific governor for public education. Just ask PSEA members.
"Gov. Wolf listens to educators and supports pro-public education policies. Gov. Wolf [also] advocates for students and stands up for PSEA members.'' - Bill Gerhauser, psychology and history teacher, Council Rock School District
"Whether he's talking about testing, subcontracting, funding, or fighting for school employees like me, Gov. Wolf puts public education front and center. He's made promises, and he's kept them.'' - Melanie Hudson, personal care assistant, Upper Darby School District
"Under Gov. Wolf, I have seen our teaching community being more positive, more confident, and ready to take on the future. To know that pensions have been protected under Gov. Wolf is paramount. It's nice to know that my younger colleagues and teachers coming into the profession are going to have that security.'' - Erin Chirdon, high school learning support teacher, West Shore School District
Since his first day as governor, Tom Wolf has made public education his number one priority. He has restored $1 billion in school funding cuts and made strategic investments in career and tech education and school safety.
Across Pennsylvania, public school students have seen the impact of these funding increases. In addition to restoring school funding cuts, Gov. Wolf, working with lawmakers from both parties, has:
Increased funding for school safety programs by $60 million;
Increased funding for career and technical education by $10 million;
Lifted the number of students in career and tech ed programs by 42 percent; and
Boosted the high school graduation rate to 86 percent.
To hear more about how Gov. Wolf is helping PSEA members and their schools, check out the story in PSEA's September Voice.