---
What are you thankful for?
As Thanksgiving approaches, your PSEA leaders and staff are thankful for hardworking members like you who make a difference in the lives of students every day.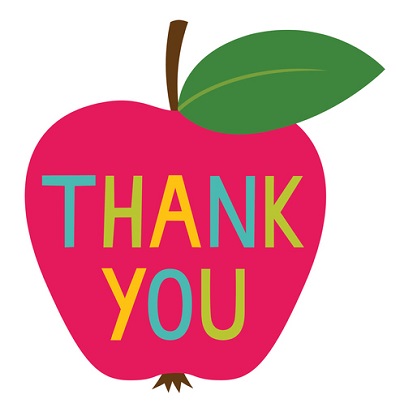 What are you thankful for as an education professional?
Share your thanks on PSEA's Facebook page, and we'll highlight some of your answers in the next issues of Connected.

---
In her own words: Susan Lynam, PSEA?s 2017 ESP of the Year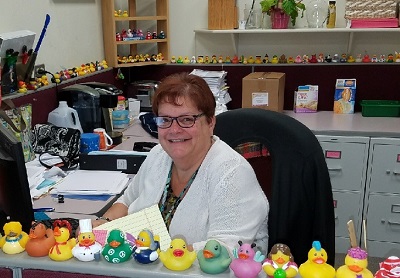 Congratulations to Susan Lynam on being named PSEA's 2017 ESP of the Year. She is the Guidance Office secretary at Penndale Middle School in the North Penn School District and a leader in the North Penn Education Support Professionals Association.
We asked Lynam to tell us a little bit about what it's like working so closely with middle school students on a daily basis.
"A group of swimmers used to come in to see me," she said. "They were eighth-graders all on the swim team, and they had to be at the high school early because that's where our pool is. Then they would be bused here to the middle school, and instead of going to the cafeteria before school opens, they used to sit here and eat their breakfast and talk to me. I was what I call the 'Mom Counselor.' I would give them a little advice about what they needed to do, stop being petty, those kinds of things. I miss it this year because they all moved to the high school. … We still have a lot of kids who like to come in. This is their safe haven — this office."

---
Legislative Update: Experience in the classroom matters

One of the companion bills to every state budget is a School Code bill that updates the state's education policy. In this year's bill, lawmakers slipped in changes to educators' seniority rights and furlough rules.
Despite the changes, seniority remains a determining factor in furlough decisions for the vast majority of educators. That's thanks to PSEA member advocacy, legislative allies, and Gov. Tom Wolf, who vetoed a much worse furlough bill last year.
PSEA opposed these seniority and furlough changes from the beginning, and Gov. Wolf opposed them, too. But the Legislature put the governor in a very tough position. If he vetoed the bill, he would also have vetoed the authority to make state payments to school districts, which could have led to immediate furloughs in districts that desperately need state money. So, Gov. Wolf allowed it to become law without his signature.
As the new law goes into effect, PSEA will aggressively defend our members and protect their rights. Stay tuned for updates.

---
They're at it again
On party-line votes, the House State Government Committee approved two bills yesterday aimed at silencing our voices. The legislation would prohibit PSEA members from voluntarily having some union dues and PSEA-PACE contributions deducted from their paychecks.
In less than 12 hours, PSEA members sent more than 4,000 emails to state House members, asking them to oppose these union attacks.
Here's what PSEA President Dolores McCracken had to say about the vote.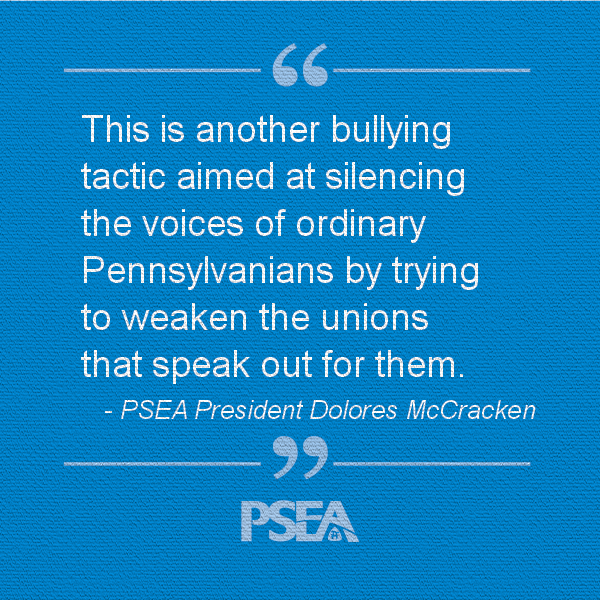 ---
Tuition vouchers loom on the horizon
When you can't get a tuition voucher bill through the Legislature, just give it a different name.
That's what some PA state senators are trying to do with legislation that would create "education savings accounts." The bill does exactly what a tuition voucher bill would do, draining more than $500 million in state funding from Pennsylvania's most needy school districts in the process.
Thankfully, a bipartisan group of senators stopped the bill from making it out of the PA Senate Education Committee Oct. 24. Make no mistake, this bill will be back as anti-public education lawmakers work behind the scenes to gather the votes they need to push it through.
We've known for decades that tuition voucher plans don't work. Now, we need to remind state senators about it – again. Let's send them a message TODAY.

---
Standing with pro-public education candidates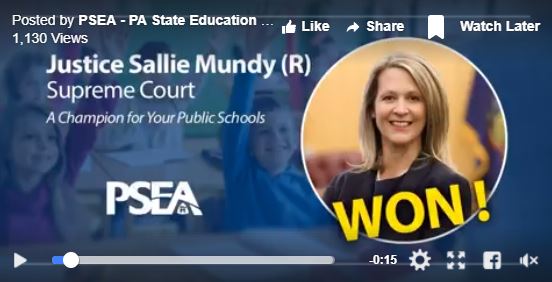 On Nov. 7, PSEA members proudly supported pro-public education candidates from both parties for PA Supreme Court, Superior Court, and Commonwealth Court – and 90 percent of them won.
The results of the 2017 election reflect how PSEA approaches every election. Party doesn't matter. We care about pro-public education candidates, and no matter what side of the aisle they sit on, we will support them if they support our schools, our students, and our communities.

---
PA school nurse travels to Puerto Rico to help hurricane victims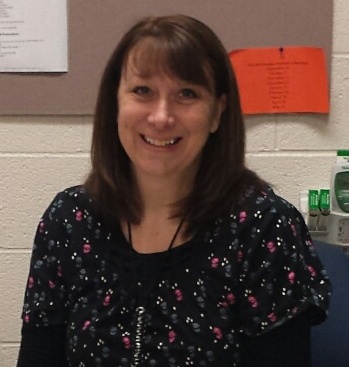 Cheryl Mattern is accustomed to going out of her way — sometimes even hundreds of miles out of her way — to help people in need.
A certified school nurse in the Central York School District, Mattern recently traveled to Puerto Rico to help people affected by Hurricane Maria as part of a federal disaster medical assistance team.
Mattern's team on the ground in Puerto Rico supported a local hospital and helped deploy teams of medical professionals to provide medical attention and distribute food and water.
"Most of the people here are still without electricity and potable water," Mattern said last month. "I truly appreciate the support of my colleagues and administration in Central York, and the prayers and well wishes from family and friends. It is heartbreaking to see all of the need here, but heartwarming to be able to bring some help."
Mattern is a member of both the PSEA and NEA boards of directors.

---
Member Benefits Spotlight: Save on your cell phone bill
---
---
400 N. 3rd Street, Harrisburg, PA 17101
This content is intended for PSEA members and their immediate families.