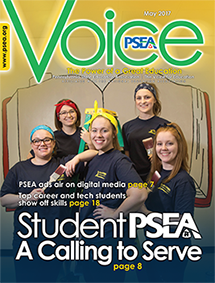 Spotlight on Student PSEA
Aspiring educators across Pennsylvania are doing amazing work – you're preparing for future professions, serving in your communities, and leading on your college campuses. Your dedication to the future of public education and the students you will serve is admirable and hasn't gone unnoticed.
The May issue of Voice magazine, the flagship publication of PSEA, prominently features Student PSEA. Articles within the magazine explore the calling Student PSEA's servant leaders have found in their future as educators, and the 2017 Outreach to Teach project at Cornell School District.
You can view the issue at www.psea.org/voice.
Do you have a story to share about your Student PSEA chapter? A community service project completed, or a unique way you're engaging and growing your membership? Contact Cassie Davis at cdavis@psea.org. Let's continue to spread the word about the great work of aspiring educators.
Gettysburg deadline extended to May 15
The deadline for applications for the Student School at PSEA's Summer Leadership Conference has been extended to May 15. Space is limited, so get your applications in!
Applicants must be 21 years of age or older. Student PSEA members will have the opportunity to network and build relationships while gaining professional knowledge and a greater understanding of how PSEA functions at a local, regional, state, and national level.
Applications can be found here.
Submissions due for NEA Awards by May 15
Each year, the NEA recognizes the excellence of the student program during the annual Student Leadership Conference. Recognition is given in the following areas: Outstanding Local Advisor, Outstanding State Organizer, Outstanding Local Student Leader, Jeffrey "J.D." Miller Outstanding Underclassman, Outstanding State Student Leader, Local Excellence, State Excellence.
More information and forms can be found here.
All nominations, applications, and supporting documents must be submitted, postmarked, or received in the NEA Student Program office (1201 16th Street NW, Washington, D.C. 20036) on or before May 15. Nominations may be sent electronically to neasp@nea.org.